Vanaf 6 augustus 2020 gaat Xiaomi een update uitrollen voor de Mi Band 5 en de Mi Band 4. Dit is de eerste grote firmware update voor de Mi Band 5. Ik heb zelf allebei de goedkope activity trackers in bezit en ben benieuwd wat de update uiteindelijk zal gaan brengen. De Chinese versie heeft de updates al ontvangen. Op het moment is Xiaomi druk bezig om de nieuwe firmware 1.0.1.32 uit te rollen in andere landen. Dit kan – om de druk op de server te beperken – niet in één keer. Je ontvangt de update via de Mi Fit app in de komende dagen / weken. Meer info over dit horloge? Lees mijn uitgebreide Mi Band 5 review of ga direct naar de Mi Band 5 prijs vergelijker en aanbiedingen.
Wat zit er in deze nieuwe Mi Band 5 firmware?
De nieuwe update voegt voor de Chinese versie Remote Camera Control toe. Andere versies hebben dit al geactiveerd op het toestel staan. Voor alle versies werkt het een aantal kleine en grotere bugs weg. Daarnaast herkent het op de Mi Band 5 nu automatisch of je een activiteit aan het uitvoeren bent. De workout-modus zal daarna geactiveerd worden. Verder kan je nu de wijzerplaat ingedrukt houden om de wijzerplaat in te stellen. Deze functie is beschikbaar via Instellingen > meer opties.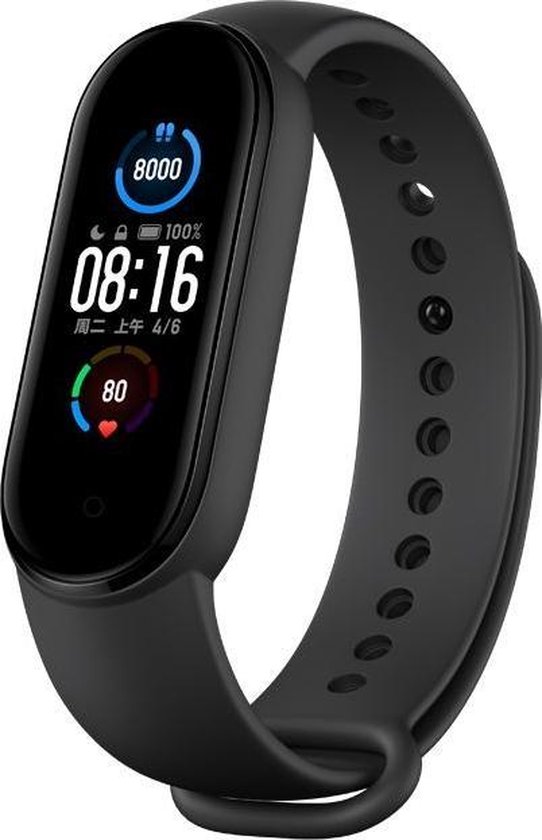 Xiaomi Mi Band 5 - activity tracker - zwart
Bekijk
Bol.com
prijs opgehaald op 26 september 2020 05:25
Batterijpercentage
Veel gebruikers van de Mi Band 5 en 4 hebben aangegeven dat het vrij irritant was dat het batterijpercentage niet werd weergeven op diverse watch faces. Vanaf nu kun je gelukkig instellen dat je het percentage van de batterij ook op het scherm van de activity tracker ziet. Het lijkt verder geen mega-grote update te zijn. Zodra de update voor mijn toestellen beschikbaar komen zal ik dit artikel een update geven. Tot die tijd moeten we het doen met de internationale informatie die beschikbaar is van gebruikers die de Mi Band 5 firmware 1.0.1.32 al hebben gehad. Om de nieuwste firmware-updates te installeren, moet u de Mi Fit-app bijwerken naar versie 4.4.0 op de gekoppelde smartphone.